Our headquarters are situated in Siófok, Hungary.
Access by car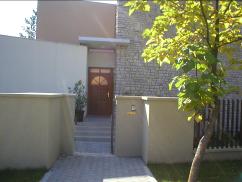 At the Siofok Centrum exit of M7 highway go in the direction of the city center. 
At the second road intersection (to the right You will see the Restaurant McDonald's), turn left. 
First on later on Street go straigt ahead until You reach the Széplak-alsó railway station then turn right and then immediately left. 
The second street parallel to the railway Klára Street. 
The Number 71 will be on the left about 800 meters away.